Platform
Unlock Digital Transformation to AI adoption
with Enterprise Full-Stack Data OS
Multiple Database Flavors
We recognize that every organization has unique requirements for their data storage. With DataKubes, you can effortlessly work with multiple database flavors, including MySQL and SingleStore, ensuring your data is stored in the most suitable format for your needs.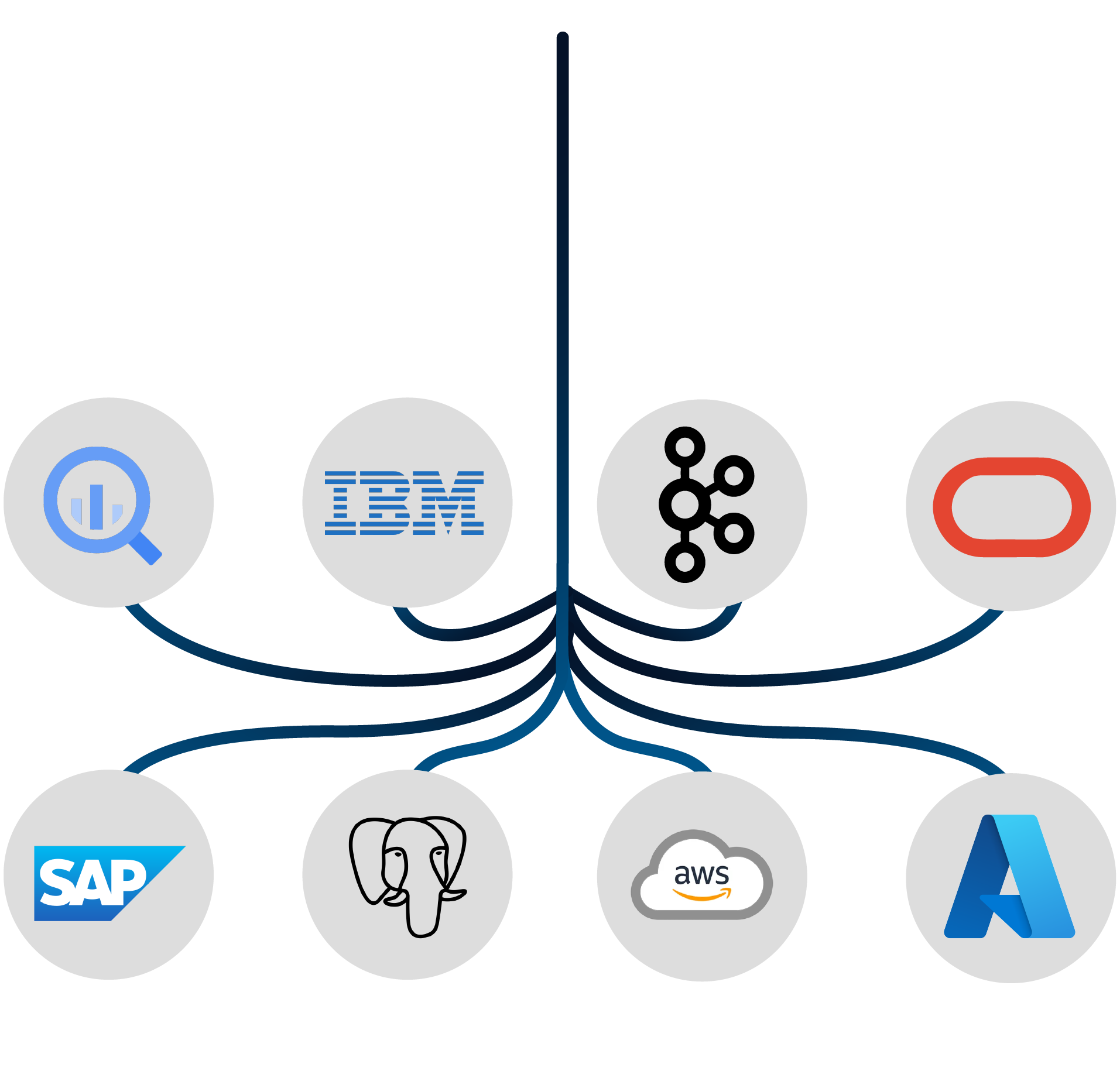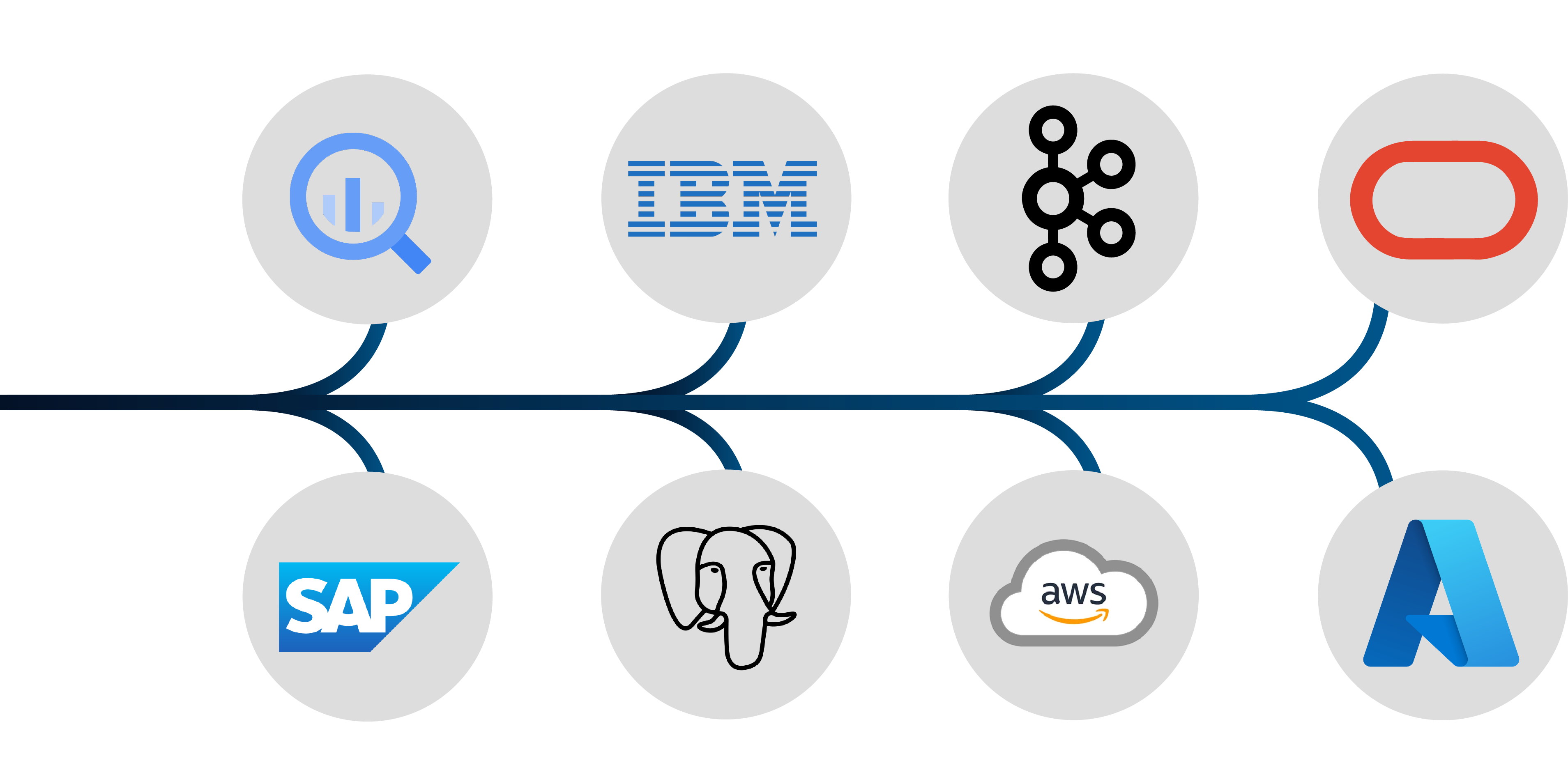 Data Sharing Made Easy
Collaboration is essential for successful data-driven initiatives. DataKubes facilitates smooth data sharing among your teams and external partners. Share data securely and effortlessly to ensure everyone has access to the right information, fostering seamless teamwork.
Auto API Generation
Say goodbye to the complexity of manually creating APIs for your data. DataKubes automates the API generation process, making data access a breeze for your applications and services. Save time and resources, and accelerate your data-driven projects.
Public Data App
(URL Shared): Showcase your organization's data prowess to the world with our Public Data App feature. Share selected datasets through a secure URL, allowing you to demonstrate your data insights while maintaining full control over accessibility.
Data Integration with Data Pipes
Seamlessly integrate and transform data between various systems using our powerful Data Pipes. Effortlessly set up data pipelines, ensuring smooth data flow across your organization. Eliminate data silos and foster data-driven decision-making.
Accelerate Data Insights
Data Orchestration unlocks the true potential of your data by accelerating data insights. Seamlessly extracting raw data from diverse sources, such as databases, APIs, cloud platforms, and IoT devices, the platform ensures your data repositories are always up-to-date and analysis-ready. Its advanced data ingestion techniques efficiently process large volumes of data in real-time, providing you with instant access to real-time data insights. With agile and well-informed decision-making, you can stay ahead in a rapidly evolving market and harness valuable insights from streaming data, historical records, and various platforms. Data Orchestration empowers you to leverage your data effectively, giving you a competitive edge in the dynamic business landscape.
Simplify Data Integration
Effortlessly connect to various data endpoints, databases, cloud storage, and more, eliminating the need for time-consuming and error-prone manual data extraction and integration processes. By streamlining data integration, Data Orchestration ensures that all the information you need is easily accessible in one centralized location, removing data silos and promoting a unified data environment. This streamlined data integration optimizes your data management process and enhances efficiency, saving valuable time and resources while improving data quality and accessibility.
Empower Data-Driven Apps
Empower yourself to transform your data repositories, Kubes, and Workshop projects into powerful and user-friendly apps. The Data Apps Studio provides a visual interface that allows you to create custom data-driven applications tailored to your specific business needs. Now, your entire organization can leverage data-driven insights, regardless of their technical expertise. By democratizing access to data insights, Data Orchestration fosters collaboration across departments and drives innovation. The intuitive app creation process enables business users and data professionals to work together seamlessly, leading to enhanced productivity and business growth. With DataKubes' Data Orchestration, your organization can harness the power of data-driven apps to drive better customer experiences, improve internal processes, and gain a competitive edge.
Optimize Data Management
Efficient data management is crucial for a successful data strategy, and DataKubes' Data Orchestration provides a solution that streamlines the process. The platform offers comprehensive data object management capabilities, allowing you to efficiently organize, update, and access your data with ease. You can create logical groupings of data objects, set permissions and access controls, and establish data relationships within your repositories. This optimization fosters collaboration within your team, facilitates data sharing across departments, and promotes a data-driven culture within your organization. With Data Orchestration, data management becomes a seamless and collaborative process, enabling your organization to make the most of its valuable data assets.
Seamlessly Integrate External Applications
Data Orchestration simplifies API creation, making it easy to integrate external applications with your local resources. Seamlessly connect diverse data sources and systems, such as third-party tools, customer relationship management (CRM) systems, marketing automation platforms, and more, to create a unified data ecosystem. This integration enhances your data capabilities, enabling cross-platform collaboration and unleashing the full potential of your data assets. By establishing seamless connections with external applications, Data Orchestration empowers your organization to leverage data in new and innovative ways, facilitating data-driven decision-making and fostering a culture of data-driven innovation.
Make Informed Decisions
You can dive deep into data analysis and uncover valuable insights. Analytical Cubes allow you to create multidimensional data models that consolidate and summarize data from different perspectives. By exploring your data from multiple dimensions, you can identify patterns, trends, and correlations that drive meaningful outcomes and strategic growth. The real-time analytical capabilities of Data Orchestration enable you to make well-informed decisions based on the latest data, empowering your organization to adapt to changing market conditions and seize new opportunities. Whether you need to perform ad-hoc data analysis or generate detailed reports and dashboards, DataKubes' Data Orchestration provides the tools you need to derive actionable insights from your data.
Stay Always Online
Ensure your applications are always ready and available with custom Web Application Servers. The App Droplets feature allows you to configure custom Web Application Servers for your PHP/Python Data Workshop Object, ensuring that your applications are always up and running, even during peak usage or unforeseen surges in demand. This reliability and availability are crucial for businesses that rely on continuous online services, such as e-commerce platforms, customer portals, and business-critical applications. With DataKubes' Data Orchestration, you can provide exceptional user experiences to customers and employees, enhancing customer satisfaction and business efficiency.
Simplify Data Capture and Storage
Streamline data capture with easy-to-create web and internal forms. The Data Forms feature allows you to design custom data capture forms tailored to your specific data needs, such as customer feedback surveys, employee performance evaluations, or product registration forms. By capturing data directly into your repositories, you eliminate the need for manual data entry and minimize data duplication, ensuring data accuracy and consistency. This optimized data capture process accelerates data workflows and ensures that your data is ready for efficient analysis and reporting. With DataKubes' Data Orchestration, data capture and storage become simple and streamlined, saving time and effort while improving data quality and accessibility.
Revolutionize Data App Creation with No Coding Required
Our innovative solution empowers businesses of all sizes to create data apps effortlessly, even without any coding experience. Using our intuitive drag-and-drop interface, you can easily design screens, integrate data, and build interactive features. Imagine a large enterprise harnessing our platform to create dynamic data apps that visualize their sales data, enabling them to track product performance, identify trends, and make data-driven decisions for optimal business growth.
Unleash Your Creativity with Customizable Data Apps
Our solution provides unparalleled flexibility, allowing you to customize data apps according to your unique business needs. Tailor the layout, choose specific data visualization methods, and customize interactions for your app, aligning it precisely with your business objectives. For instance, a bank could effortlessly build a data app using our platform to collect customer feedback, gaining valuable insights to enhance their products and services and foster greater customer satisfaction.
Visually Stunning Data Visualization Made Simple
With our powerful dashboard, data visualization becomes a breeze. Create visually engaging charts, graphs, and maps that bring your data to life and are easily understandable at a glance. By tracking model performance, identifying patterns, and making data-driven decisions, businesses can optimize their operations and improve their bottom line. For example, a retail company could effortlessly track their online store's performance, identifying top-selling products and areas for marketing improvement.
Effortlessly Gather User Data
Our solution includes a user-friendly form builder, streamlining the process of collecting data from users efficiently and effectively. Create forms for various purposes, from gathering customer feedback to conducting surveys, enabling you to better understand your audience and enhance your offerings. For example, healthcare providers can create satisfaction surveys to identify areas for service improvement, ultimately enhancing patient care.
Stay Connected with Mobile Access
Stay connected to your data and apps on the go with our seamless mobile app integration. Access critical information and make informed decisions, whether you're a remote worker or a frequent traveler. For instance, salespeople can effortlessly access their data apps on their mobile phones during customer meetings, enabling them to stay on top of sales performance and adapt strategies as needed.
Enhance Data Security through Advanced Encryption
At DataKubes, we take data security seriously, recognizing its criticality for any business. Our platform employs robust encryption methods, including SSH connections, to ensure highly secure and encrypted connections between your database and DataKubes. With our advanced encryption protocols, you can rest assured that your data is protected from unauthorized access and potential breaches, giving you peace of mind and the confidence to focus on your core business operations.
Efficient Access Control for Your Large Work Team
Managing access to projects and ensuring appropriate data confidentiality is crucial for any organization. DataKubes offers a comprehensive access control system that empowers you, as an administrator, to assign specific roles and permissions to each team member. This feature allows you to set precise limits on access to confidential information, providing a secure environment for collaboration while safeguarding sensitive data from unauthorized individuals.
Streamlined Auditing and Activity Tracking
Accidents or unforeseen situations may necessitate auditing to understand actions taken within a project. At DataKubes, we make auditing effortless and transparent. Our platform provides data access registration tools, such as Kubes and Dataworkshops, which meticulously track user activity within the system. Additionally, you have the option to receive alerts in case of any failures or unusual activities, ensuring prompt identification and resolution of potential issues. Furthermore, our version control for DataApp creation allows you to track changes and maintain an organized development process, facilitating audits and ensuring project integrity.
Reliable Data Governance and Compliance
DataKubes prioritizes data governance and compliance, recognizing their significance in today's regulatory landscape. Our platform is designed with adherence to industry standards and best practices, enabling your business to meet various data security and privacy regulations effortlessly. Whether you operate in highly regulated industries or simply value comprehensive data protection, DataKubes provides a reliable solution to maintain compliance and uphold your organization's reputation.
Accelerated AI adoption in your organization
Streamline your Data Management and Orchestration. DataKubes provides a complete set of building blocks for data management and data orchestration, laying the foundation for accelerated AI adoption. Our platform seamlessly integrates and orchestrates data from diverse sources, ensuring that your organization has a unified, reliable, and up-to-date data foundation—essential for successful AI implementation.
Easy Implementation of Predictive AI Models
DataKubes Workshop is the easiest way to implement predictive AI models. Our secret sauce lies in our powerful Auto Machine Learning engine, which can automatically build and tune models for you. You can also integrate your favorite Python tools and TensorFlow capabilities, giving you the flexibility to build the perfect solution for your needs. Whether you're a technical or non-technical user, DataKubes Workshop makes it easy to create, orchestrate, and tackle various organizational challenges. With our help, you can confidently drive the AI flow and transform your business.
Generative AI Knowledge
DataKubes Singular AI is a natural language processing (NLP)-powered AI consultation tool that helps users interact with their data in a natural and intuitive way. By organizing and processing all of an organization's data into different blocks or layers within our Data OS, Singular AI unlocks a wealth of knowledge that can be used to swiftly access vital information, identify risks, and make better decisions.

<! -- close #post-id-->